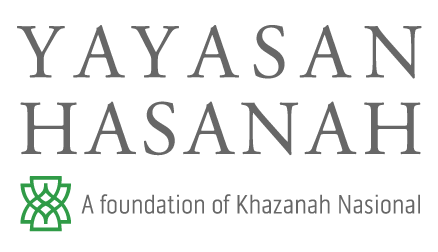 YAYASAN KHAZANAH OPENS APPLICATIONS FOR SCHOLARSHIPS
The Prestigious Awards For Bright And High-Achieving Malaysians
Kuala Lumpur, 18 June 2021 – Yayasan Khazanah, the scholarship arm of Yayasan Hasanah, today announced the opening of their annual Khazanah Global Scholarship and Khazanah Watan Scholarship Programme. These prestigious awards are targeted at Malaysians hoping to pursue their undergraduate studies through the A-level programme at Kolej Yayasan UEM as preparation for further studies at selected renowned universities abroad or at selected leading local universities.
Speaking on these scholarship announcement, Pn Shahira Ahmed Bazari, Board of Trustee at Yayasan Khazanah and Managing Director of Yayasan Hasanah (the impact-based foundation of Khazanah Nasional Berhad) said that the foundation aims to equip Malaysians with educational opportunities to take the nation to greater heights. "Through the scholarships that we offer, we want to be able to provide bright and high-achieving Malaysians the opportunity to pursue their education in top universities around the world. We hope to continuously build and nurture future talents and leaders for Malaysia who are well equipped to serve the country and navigate the various 21st century leadership challenges, including issues on sustainability, climate change and the future of work related to the Fourth Industrial Revolution."
Pn Shahira added that the announcement coincides with the recent announcement of the Sijil Pelajaran Malaysia (SPM) examination results.
For Amos Tong, a scholar of the Khazanah Global Scholarship Programme who is currently pursuing Economics in the University of California, Los Angeles (UCLA), the scholarship stood out to him because of its unparalleled range of support such as development programmes and leadership conferences as well as forums. "In a world that is getting more and more competitive every day, it is crucial that candidates excel academically and possess leadership skills. Fortunately for me, Yayasan Khazanah guides scholars like myself via programmes such as the Yayasan Khazanah Premier Scholars Programme (YKPSP) and job attachments," said Amos.
The Khazanah Global Scholarship will be offering Malaysians a full scholarship to pursue their A-Level studies at Kolej Yayasan UEM as a preparation to pursue undergraduate studies at selected leading universities in the United Kingdom, United States or Australia. In addition to the financial support, this scholarship would also be offering applicants with leadership training and job attachments to help prepare them for a successful and accelerated path to leadership at leading organisations in Malaysia.
On the other hand, the Khazanah Watan Scholarship Programme will offer applicants the opportunity to pursue their Foundation or Undergraduate studies at selected leading local universities. Both these scholarships would require applicants to possess strong leadership skills and active participation in extra-curricular, social or voluntary activities as well as have a consistent and outstanding academic achievement record.
Ultimately, Yayasan Khazanah's goal is to groom the future generation in order to transform and make substantial contributions to Malaysia's Government-Linked Companies (GLCs) and other top organisations in the country or around the world. Moreover, the foundation also aims to fulfill the current talent gap in the country in a more holistic manner and provide myriad opportunities to those wanting to pursue their academic goals and dream jobs. To date, Yayasan Khazanah has awarded over 505 Global Scholarships and 296 Watan Scholarships to deserving Malaysians.
Both applications will be available online and interested applicants can apply through a link provided in Yayasan Khazanah's website. Applications for the Khazanah Global Scholarship and Khazanah Watan Scholarship Programme will be open from 11 to 30 June 2021.
More information can be found on Yayasan Khazanah's website: www.yayasankhazanah.com.my.
About Yayasan Khazanah
Yayasan Khazanah (YK) was established in 2006 by Khazanah Nasional Berhad. Its mission is to select, support, groom and nurture exceptional individuals capable of leading the best organisations in the country and around the world. YK offers deserving scholars full scholarships under various scholarship programmes to study at premier universities in the United States, United Kingdom, Australia and Malaysia. Besides financial support, an integral feature of the Khazanah scholarship programmes is the Yayasan Khazanah Premier Scholars Programme (YKPSP), a structured development programme to help enhance the holistic development of its scholars. In addition, YK scholars are also exposed to the business world through business and civic internships.
About Yayasan Hasanah
Yayasan Hasanah ("Hasanah") is the impact-based foundation of Khazanah Nasional Berhad ("Khazanah"), the sovereign wealth fund of Malaysia. Hasanah was set up as an independent entity on 1 July 2015, building on nine years of Corporate Responsibility (CR) efforts previously driven by Khazanah. As a grant-giving organisation, Hasanah goes beyond ringgit and sen to facilitate an ecosystem of transformation, working in collaboration with multiple stakeholders, infusing a spirit of advocacy and building capacity in five key focus areas: Education; Community Development; Environment; Arts and Public Spaces; and Knowledge. Collectively and collaboratively, Hasanah hopes to shift the needle of social and community reform for Malaysians, towards a better Malaysia.
For media enquiries, kindly contact:
Shabana P. | 019 204 6514 | [email protected]
Melanie Noelle | 017 666 5265 | [email protected]