Interview with Vikas Pota – T4 TV
4 January 2021
What is the effect of the pandemic on education in Malaysia?
The Covid-19 pandemic has undoubtedly impacted children's lives and disrupted their daily activities. Malaysian schoolchildren were barely in school for three months when schools were closed following the enforcement of the movement control order on March 18, 2020.
Although schools reopened in the middle of the year (July 2020), the children returned to a totally different environment at school due to the need for them to wear a mask and practice physical distancing, as well as eat at their own desk during break.
Despite of these measures, the school term was cut short with the last day brought forward from Dec to Nov 20. This was done to reduce the spread of Covid-19 as an analysis of the epidemic in Malaysia showed there had been an increase of cases among students, teachers and school staff during the third wave
The changes to school opening dates has a knock-on effect on major exams:

On 15 April, the Education Minister Mohd Radzi Md Jidin announced that the Ujian Penilaian Sekolah Rendah (UPSR) and Pentaksiran Tingkatan Tiga (PT3) examinations for standard six and form three students have been cancelled for 2020

He also announced that all other major school examinations including the Sijil Pelajaran Malaysia (SPM) and Sijil Tinggi Persekolahan Malaysia (STPM) would be postponed to 2021

Additionally, all extracurricular activity in schools will be suspended starting from March 2020 until further notice
The closure of schools means that 4.9mn students in Malaysia required access to digital learning
Whilst Malaysia, like many other countries, was in the process of digitalising education, the pandemic made the need more acute and accelerated it
The sector has risen well to this challenge – teachers have adapted their mode of delivery incorporating combining tools such as google classrooms, recorded videos, whatsapp check-ins, and printed dossiers
However, not all students are able to keep up with the acceleration

The Ministry of Education (MOE) survey indicate that 37% of students do not have any appropriate e-learning devices.

Department of Statistics data show that computer and smartphone ownership rates are 71% and 91% respectively but not all of them are suitable for e-learning, and are oftentimes shared within a family.

Connectivity is also an issue with broadband penetration at 10% and 3g/4g data costly

Based on the MoE's latest announcement, schools are slated to reopen from 20 Jan 2021 and this should bring some relief
There is cause for cautious optimism with the vaccine rollout being imminent. But one should bear in mind that the daily covid cases have exceeded 2,000 in the past fortnight. The number of cases that led to closures in Mar 2020 was in the low three digits.
As such, it is important for schools to take measures to reduce community transmission within its premises and efforts to accelerate the digitisation of learning to continue
Reference
Selaras dengan perutusan Tahun Baharu 2021 oleh Yang Amat Berhormat Perdana Menteri Malaysia pada 31 Disember 2020, Kementerian Pendidikan Malaysia (KPM) ingin memaklumkan bahawa kesemua institusi pendidikan bawah KPM dan semua kategori institusi pendidikan swasta (IPS) yang berdaftar dengan KPM termasuk sekolah antarabangsa akan dibuka berdasarkan takwim penggal persekolahan dan institusi pendidikan bagi tahun 2021. Takwim ini boleh dirujuk di laman sesawang KPM di www.moe.gov.my/takwim. Takwim bagi IPS pula adalah berdasarkan tarikh penggal persekolahan institusi masing-masing. Pembukaan ini melibatkan institusi pendidikan di seluruh negara termasuk di kawasan Perintah Kawalan Pergerakan Bersyarat (PKPB). KPM ingin menegaskan bahawa pengoperasian kesemua institusi pendidikan adalah tertakluk kepada pematuhan Garis Panduan Pengurusan dan Pengoperasian Sekolah Dalam Norma Baharu dan Garis Panduan Pengurusan dan Pengoperasian Institut Pendidikan Guru dan Kolej Matrikulasi Dalam Norma Baharu. 2 KPM akan sentiasa memantau keadaan semasa pengoperasian institusi pendidikan bersama-sama dengan Kementerian Kesihatan Malaysia (KKM) dan Majlis Keselamatan Negara (MKN) bagi memastikan aspek kesihatan dan keselamatan warga institusi pendidikan terus diutamakan. – TAMAT
KEMENTERIAN PENDIDIKAN MALAYSIA
2 JANUARI 2021
What has been the role of Yayasan Hasanah during this period?
YH had the privilege to step-up amidst the crisis within education and also other areas
Education:

CERDIK: The CERDIK initiative announced in the Budget 2021 is a GLC-driven CSR initiative, in partnership with the Ministry of Education (MOE), and PINTAR Foundation as the implementation agency. It aims to provide digital access comprising laptops and data connectivity to 150,000 students from 500 schools nationwide.The initiative is fully funded by GLICS, GLCs and the private sector and seeks to enable continuous learning in the new norm and provide education access to the most marginalised school children, particularly in rural and remote areas.

CHUMBAKA: The 'Transforming Tenom Schools to Digital Ready Schools' Programme has progressed well despite the school closure. Workshops for teachers on i. Programming, ii. Embed Systems and iii. 3D Printing, have been delivered in all 18 schools in the district. Tenom Innovation Centre (TIC) has also produced training videos on Arduino-Scratch programming which will be used to help train students in schools.

GSL: Global School Leaders (GSL) has managed to conduct two (2) school leadership capacity building sessions online. Each session was attended by more than 300 participants nationwide.

The PINTAR Foundation-UTAR 'Mental Health Programme for School Teachers and Counsellors in Sarawak' train-the-trainer programme was successfully delivered for 35 mental health professionals from Hospital Miri and Hospital Kuching.

Beyond education, YH widened their role within humanitarian relief: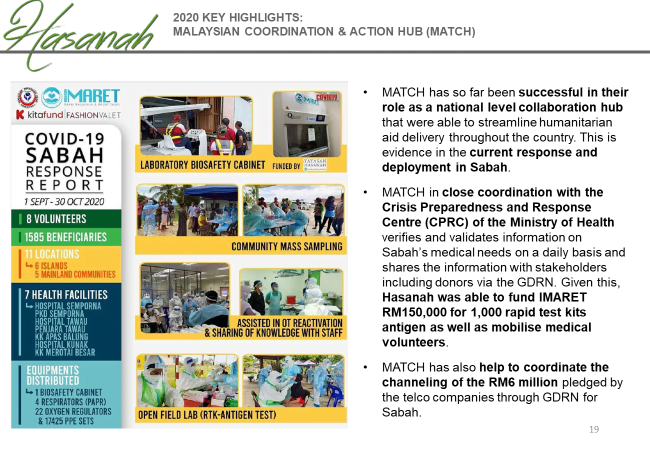 What do you think the new normal will be for education going forward?
Before we talk about what the new normal is, it is important to note that Malaysia is fortunate enough to have a high degree of digital literacy in terms of having the basic knowledge of handling mechanical gadgets such as a desktop, laptop and so forth (IGI Global, 2020). Using this definition, over 90% of Malaysians are technologically literate
Additionally, digital learning has always been on the cards with it forming a crucial part of the Malaysia Education Blueprint 2013-2025
As such one could say that the new normal is an acceleration of the application digital means to deliver education – it is not something completely new but rather longer-term plans being brought forward
This acceleration has resulted in a number of novel solutions:

To cater to certain households' incapability to purchase devices, the government introduced Kelas@Rumah, a daily educational television show that is available on a free-to-view television channel

Telcos provided 1GB of free data for the purpose of learning throughout the Movement Control Order period

Delima, a sharing and collaborative platform that provides communities and resources for teachers to support online teaching and learning, was launched by MoE

These solutions, albeit not necessarily in their current form, are here to stay even after the covid-19 pandemic
Instead, they will be used to complement in-person learning providing students a rich and interactive experience be it in schools or otherwise
What is the role of philanthropy in these times?
Reduce the burden on recipients

Philanthropic foundations can ease restrictions on recipients of their grants allowing them to deploy aid more quickly and flexibly

These practices, where suitable, can continue beyond the pandemic
Give more

Accelerate giving – reprioritise non-crucial expenses towards humanitarian causes
Improve collaboration and partnerships

Leverage on existing platforms and access to communities

Team up to combine expertise and drive efficiency
Fortify and rebuild communities

Focus on partners that understand communities particularly marginalised ones

Cite HSG Humanitarian projects
Support the public sector

Support cross agency work to solve underlying problems

Work with the public sector for greater scaling
What leadership lessons can you share from these times?
The COVID-19 pandemic is a stress test for education systems around the world. Due to the crisis, 190 countries have faced complete or partial school closures and as a result, more than 1.7 billion students have been affected. With hundreds of millions of learners forced to stay home, education policy makers are working to ensure that classes continue, and that the most vulnerable don't get left behind. Technology is one of the most critical tools to support remote learning when learners need to remain outside of classrooms.
With many different approaches being taken by countries worldwide, the COVID-19 crisis is an opportunity for policy makers to learn from each other and co-operate to mitigate the effects of the pandemic and maybe even "build back better".
Many students have been left behind because of lack of access to appropriate bandwidth or devices and lack of school readiness while others have been able to accelerate their digital learning through sophisticated software, access to high performing devices and highly trained teachers. This digital divide has been exacerbated by the crisis and will leave gaps in many children's learning. Governments, districts, and schools must make every effort to ensure that systems and infrastructures are able to cope with future lockdowns to minimise this. More needs to be done across the globe by ministries of education and education endowments if humanity is to get close to SDG4.
Families should be included in the educational process. Because they are now more involved in their children's education, they have a lot to contribute, and educators and staff should value their opinions and support. Another important lesson from this pandemic is that the teaching should be more flexible and adaptable to what the student needs. Every day, adults, children, and adolescents around the world are physically and emotionally affected by the pandemic. The learning process can be affected by these factors.
Another lesson the pandemic has taught us is the importance of focusing on mental health. Because the world is going through a turbulent and traumatic time collectively, it is easier to talk about isolation, the emotions this has provoked, and how each person copes with the situation differently. This openness should remain after the pandemic, regardless of what education looks like in the future. Every new educational model or policy should incorporate the mental health not only of students but also that of the teachers and the non-academic and support staff, developing strategies that benefit their psychological well-being.